Interior Pool Finishes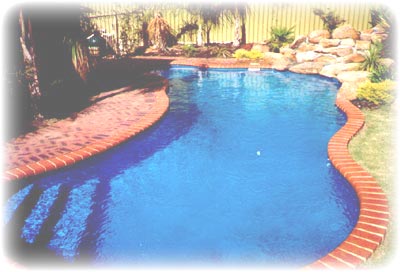 We recommend using the Elastameric Variable Membrane (EVM) Copolymer Coatings (roll-on/spray-on interior finishes) with our insulated pool wall system. Many types of interior finishes can be used, such as: Composite Fiberglass Finish (CFF), Epoxy Coatings, and Pre-fabricated Liners (only available for purchase from other manufacturers), however we only provide the EVM Coatings with our pool kits.
Each manufacturer warranties their interior product anywhere from 5 to 25 years.
Elastomeric Variable Membrane (EVM) Copolymer Coatings were developed to overcome one of the inherent deficiencies in conventional surface coatings -- that is to provide film continuity in the event of an existing or developing cracks in a masonry surface. EVM coatings completely seal surface porosity and cracks. That means leak proof!

If you are restoring an existing pool, visit our pool restorations page. For other useful information, visit our FAQs page and the Resource Links page.
Elastameric Variable Membrane (EVM) Pool Coating

Our 30 years of experience indicates that EVM coatings can be applied by spray-on or roll-on to virtually any dry, clean porous substrate and clean, hard surfaces. This includes concrete, masonry, stucco, plasters, sheetrock, stainless steel, steel, fiberglass and acrylic.

| | |
| --- | --- |
| Before | After |
Proper application over the proper primer insures an adhesion of 20 pounds per square inch and this level assures protection from blistering or de-lamination except in applications, which require vapor transmission through the coating.

In this application, a sealer/primer is rolled on the surface (pools, water tanks, etc.) to seal pores and stop hydro static pressure and vapor transmission.

The EVM coating has a tensile strength of 1500 psi and elongates in excess of two hundred percent at 70°F and remains flexible at temperatures as low as -30°F. The ability to elongate normally compensates for most structural movement and eliminates the hairline cracks that develop with non-elastic coatings.

Pools and roofs have gone 10 years and more without discoloration. We have the records. If desired, the coating may be rejuvenated at anytime by repeating the cleaning and top coat application. Our product has made pools and roofs watertight for over 30 years. It makes any pool structure even more effective and durable. This product comes in white.

With this type of pool finish, you'll reduce your pool maintenance, and there can be a noticeable reduction in pool chemical requirements and energy usage, thus helping the environment.

The finish is easily cleaned with simple detergents. EVM coatings will not allow mildew or mold to grow and is unmarred by most acids, alkalis, solvents, oils and even sea water. Our coatings have been health approved by state department officials. This product has been used on new pools and remodels by residential customers to commercial projects including for the U.S. military.